BYALEE WOW WIE rw
Chestnut flaxen stallion
15hh | 2009

Service fee: $1500 inc. gst
Download Contract Adobe PDF (250 kb)


A compact and very attractive young colt by British Olympic Sensation, Wie Weltmeyer. Wow simply oozes charm. His elastic and extravagant paces show scope in his movement with an exceptional hind leg and also free, flash front leg mechanics. Jumping should be no problem either as his father Wie Weltmeyer was known to win 1.40m classes on alternate weekends to his dressage commitments up until 1997! A seriously versatile stallion that has crossed very well with the thoroughbred mare Law
Suit. This young colt will be an enormous asset for a smaller rider wanting a horse with versatility, scope, power and presence! One the judges and riders will love - and those after colour will note that his flaxen mane and tail are almost white!


Wow is that sought-after warmblood stallion, small enough to ride comfortably but offering Grand Prix dressage and jumping bloodlines ...


Sire: Wie Weltmeyer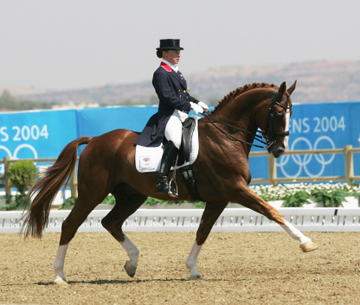 Wie Weltmeyer is a sire with fantastic personality, who is very popular throughout Europe. He is now competing at the highest international level. After his win at the stallion testing in Medingen in 1993 he won several show jumping dressage style classes up to class M. One of the highlights of his career was the win of the final qualifier to the German young horse championships in 1996 with a score of 9.3. Furthermore he was bronze medal winner of the six year old dressage horse championships in 1996.
In 1997 he won effortless several show jumping classes over 1.40m. As an only eight year old he won in 1998 six Grand Prix and Grand Prix Special and 1999 he reached the international stage. Emma Hindle and Wie Weltmeyer were part of the British team selection group for the Sydney Olympic Games. This pair was catapulted to the international top in the Dressage season of 2003. They achieved wins and places at international Dressage Shows in Jozefin (POL), Bazargo (ITA), Aachen, Berlin, Stockholm to name only a few.
The high point of the 2003 outdoor season were the European Championships at Hickstead, as the highest placed British combination (finishing eighth) and the bronze medal with British team. Since they were very influential on the outcome, they were as well rewarded with the lead in the British dressage league table. In 2004 they were members of the British Olympic team in Athens.
Wie Weltmeyer is not only successful in the sport but he is also producing headlines as a sire. In 1996 the colt Wunsch Dir Was achieved the highest price at the foal auction in Verden. His son Weltdieb was his first graded stallion in 1998. Several of his young prodigies are already successful at base level dressage. Wellington (Wie Weltmeyer x AarkingXX) ridden by Petra Epping finished fourth in the German national championship of the five year old dressage horses with a score of 8,5.
His sire Weltmeyer is a phenomenon in the German breeding world. His dam the state premium mare Daisy is a daughter of the international show jumping producer Dynamo. His grandmother Danja was a grade a show jumper. She is the full sister of the dam of the graded stallion Graf Dagobert Z. Wie Weltmeyer is therefore the product of Hanoverians bloodlines successful in both dressage and show jumping. These genes can be traced far back into the 19th century.
Dam Line: Abs (xx)
Abs has sired over 100 ASB registered progeny to date. He has progeny that are Stakes placed, over 25 winners and many placings. Abs is the sire of Essemell (1995) who is just beginning his stud duties. Hopefully he will also be seen to produce many winners.

Abs has been crossed with Performance mares with exciting results. His progeny have inherited his lovely disposition, attractive conformation and amazing aptitude to work. He has sired horses such as Absailer, Smart Alec (eventers) and Abstained (dressage) with many more approaching competition age.
Wow's dam, Law Suit, alias Heidi, was a sweet tempered mare and easy to handle and manage. Wow has obviously inherited that amazing temperament - he fits right in with Byalee Briar as being another claytons stallion - the stallions you can't tell are really stallions at all!

Wow Wie is available live or chilled (LFG). Frozen semen by arrangement.
Service fee: $1500 including gst

For more details look up Wow Wie rw on the website at http://www.byalee.net
Wie Weltmeyer

Weltmeyer

World Cup

Anka

Daisy

Dynamo

Danja

Law Suit

Lawyer

Waajib

Resound Lady

Jacali

Abs
Special Spirit